The 2010 Disney Princess Half Marathon is the first race that I've participated in that has an expo so I was pretty excited about it. I headed out to Disney's Wide World of Sports on Friday to check it out. When I first got to there, I bee-lined it to the race packet pickup area. Where I got my race bib, which is super fab!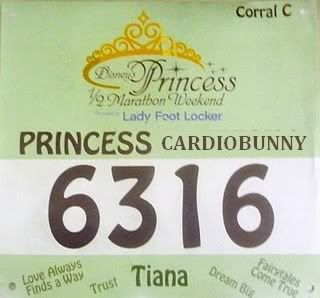 And my goodie bag.
And um... I don't know if my expectations were too high, but I kind of expected to have a few more goodies in my bag lol. But I do like the bag itself and I
love
my bright pink socks.
After that I wandered through the expo while trying to not make eye contact with the vendors since I had promised myself that I wouldn't buy anything. But then I saw this:
And I just had to have it! And then I came across the Spi-Belt booth and since I had been planning on buying one anyways,
it-only-made-sense-for-me-to-get-it-today-so-that-I-wouldn't-have-to-pay-shipping-and-handling-later
!
I am quite proud to say that those were my only two purchases. The Spi-Belt was a necessity and the tiara... Well, although I haven't figured out where I'm going to wear it, I'm sure I'll get a lot of wear out of my tiara because I love it! My sister was even kind enough to post a really hideous picture of me wearing it while I was taking a nap to Facebook *Payback is a mutha*
After my nap I headed over to Downtown Disney to meet with the
Shredheads
. It was awesome to "meet" them after talking to them online for months. They are all just as nice and fun as they are on Twitter! One of their sponsors,
Omron
, provided tech tees and really cool pedometers for everyone. I am in love with that tech tee, it feels really soft.
I'm such a nerd that I already pinned my race bib on the shirt that I'll be wearing on Sunday and put my D Tag on my shoe.
Oh and for the record, it is 1:30 in the morning and I don't think I'll be falling asleep any time soon. I'm not nervous about Sunday, I'm just
REALLY
excited! The same thing happened last night and tomorrow (well tonight) will probably be worse FML!