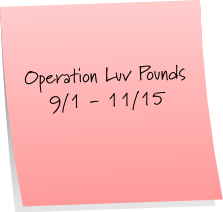 I stepped on the scale this morning and discovered that I'm down 3 pounds. Woohoo!!!
I have to admit that I haven't done a darn thing to deserve it seeing as how I exercised a whopping one time during the past two weeks. I was sick, so I guess not having much of an appetite for a week and a half can do a lot for a girl's figure.
I did finally register for the Miracle Miles 15k. I could have signed up for the 5k, but I figure getting my butt kicked may be just the thing I need to get my butt in gear. My only goal for this race is to finish, so keep your fingers crossed for me
Have a fabulous Friday!
❤CardioBunny