Last year I set out to lose 30 pounds before my 30th birthday and I reached that goal with my May 1st weigh in. Shortly after that I met Hunny Luv and between trying to spend as much time with him and the kids as I can and the regular demands of life, exercise has slowly fallen to the wayside.
The scale shows that I have gained 5 pounds since then. Five pounds that I worked
really
hard to lose and never intended to find again. Clearly, I need to work on making myself a priority again.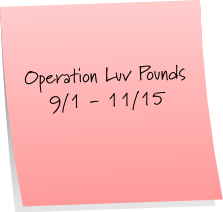 But today, is the day that I start turning it all around. Because I am declaring war on those Luv Pounds! In fact, I am going to lose those 5 pounds plus another 15 before the holidays.
My Plan of Action:
✿ 30 minutes of exercise 4 days per week
✿ Continue to follow the 80/20 rule with eating
✿ Run the Miracle Miles 15k (ok, run/walk it)
✿ Post an update/status blog each Wednesday
Today I'm going to get my first workout in and put together a workout schedule.
❤CardioBunny